Home » News » Lamar Odom reported to be 'getting stronger daily'
Lamar Odom reported to be 'getting stronger daily'
Posted by Juliet on October 30, 2015 at 4:50 AM EST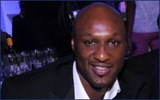 It's been reported that Lamar Odom has been walking with assistance, and 'getting a little stronger every day'.
At the same time, his ability to communicate and speak is also improving.
Doctors, though, are still assessing the extent of the damage to the former professional basketball player and ex LA-Laker following an incident earlier this month in which he was found unconscious from a drug overdose at a brothel in Nevada.
The coma lasted four days, after which the estranged husband of Khloe Kardashian was transferred from hospital in Las Vegas to the Cedars-Sinai Hospital in LA, where he could be closer to the Kardashians, many of whom have been at his bedside.
It seems as though the future of the Odom-Kardashian marriage is uncertain at best although Khloe has said she wants to be at his side while he recovers, no matter how long that takes.
She recently faced a backlash after rumors the family is cashing in on the crisis with interviews and by using the story in Keeping up with the Kardashians.
Whether that's true or not, and whatever happens with his (former?) wife, what is definite is that Lamar Odom still faces a long road back to full recovery.
Photo: E!
Share
(0) Readers Comments