Home » News » Chaka Khan Talks Dancing with the Stars Elimination
Chaka Khan Talks Dancing with the Stars Elimination
Posted by Juliet on September 23, 2015 at 4:52 AM EST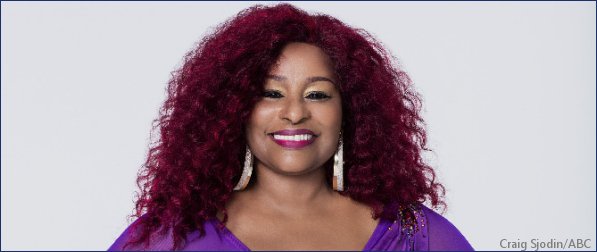 In her interviews after leaving Dancing with the Stars, music legend Chaka Khan has revealed a couple surprising details. (This in the wake of her elimination from Season 21's second performance show with professional partner Keo Motsepe.)
Firstly, she confessed to Good Morning America that, rather than disappointment, she actually felt relief at her elimination.
Equally startling, given her years or decades in the industry, was the admission that she still gets stage fright, which is partly why she felt so relieved it was over.
In a separate conversation, she admitted that she had "learned a lot" about herself and said sorry to "anyone I have let down" – especially Keo.
"It was a great experience and I love all the great people who made this show. I am going to miss them."
In yet another interesting revelation, it seems that, when she sings, Chaka Khan can overcome her nervousness by acclimatizing to being on stage with a couple hard-hitter songs to get the concert started.
There is no chance to do that on DWTS, as she explained.
The show's current Season 21 continues on ABC.
Photo: Craig Sjodin/ABC
Other Articles You May Be Interested In:
Share
(0) Readers Comments