Home » News » The Voice: NBC Announces coaching line-up for Season 9
The Voice: NBC Announces coaching line-up for Season 9
Posted by Juliet on June 11, 2015 at 7:20 AM EST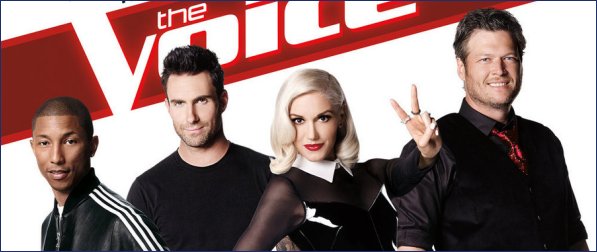 Hold the front page! The line-up for the ninth season of The Voice has been announced!
And the panel for the season, which kicks off this fall, will comprise (drum roll, please):
Adam Levine
Blake Shelton
Pharrell Williams
Gwen Stefani
Carson Daly, who returns for hosting duties, described the line-up as "An astounding group of coaches at the peak of their powers. We are thrilled for what Season 9 will bring."
For his part, NBC reality boss Paul Telegdy commented: "The panel's camaraderie and expertise will give the artists immeasurable experience and provide must-see entertainment for the viewer."
Shelton and Levine have already been coaches on all eight previous seasons of the hit singing show. Meanwhile Stefani coached on season 7, and Williams has been involved on the past two seasons.
Levine said: "It's become a second family for me. I'm always very excited to come back to it."
Shelton chipped in: "I'm excited we're back together again. I'm excited about another winning season for Team Blake."
So are we! Are you?
Photo: NBC
Share
(0) Readers Comments