Home » News » Bobbi Kristina Brown "Not Being Taken Off Life Support": New Statement
Bobbi Kristina Brown "Not Being Taken Off Life Support": New Statement
Posted by Juliet on February 11, 2015 at 5:46 AM EST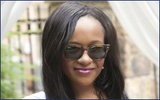 It seems that Bobbi Kristina Brown will not be taken off her life support as midnight strikes today after all.
One source, apparently close to the Brown family, told E! news that reports that Whitney Houston's 21-year-old daughter would have the machine that is keeping her alive turned off on February 11, exactly three years after Brown's mom died, were untrue.
A candlelight vigil has been held for the young star of The Houstons: On Our Own in Georgia, and the family's lawyer has blasted media reports on both sides of the Atlantic about life support being turned off, stressing that legal action would be taken "at an appropriate time."
Bobbi Kristina remains in hospital some 10 days after being found unresponsive at home in the bathtub by a friend. Long-term boyfriend Nick Gordon tried to resuscitate her before she was taken to the hospital.
All sorts of rumors are swirling around the incident and that Bobbi Kristina was the victim of foul play. That drugs were found in the house. That her face was injured.
The lawyer, Christopher Brown, added: "We continue to request privacy. We thank everyone who supported the vigil for Bobbi Kristina."
E! News has also been told: "Bobbi Kristina is not brain dead. The Houstons and Browns are not fighting with each other."
The Houstons: On Our Own aired on Lifetime in 2012, starring Bobbi Kristina along with Gordon and a number of other family members.
Photo credit: Lifetime
Other Articles You May Be Interested In:
Share
(0) Readers Comments