Home » News » It's a boy! Baby joy for Amazing Race winner Jennifer Hoffman Fowler
It's a boy! Baby joy for Amazing Race winner Jennifer Hoffman Fowler
Posted by Juliet on February 7, 2015 at 5:47 PM EST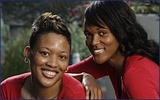 Former Amazing Race winner Jennifer Hoffman Fowler, who took the show's crown with sister LaKisha Hoffman, has had her second child.
Logan Ryan Fowler was welcomed into the world last month, it has been reported. And the parents, Jennifer and husband Ryan Fowler are of course delighted.
The latest arrival tipped the scales at a good weigh of seven pounds 13 ounces, and was 20 inches long at birth.
Jennifer said in an interview with a magazine: "The sickness and nausea were worth it to have our baby son born healthy. We are over the moon in love with him!"
The most recent family member is a brother for daughter Nylah Mackenzie, who's already two and a half.
According to Jennifer, Nylah has been: " A great helper and the best big sister we could have asked for as parents."
Jennifer and her sister came fourth in Season 14 of Amazing Race, two years before taking the 2011 Season 18 grand prize of $1m. She married Ryan in 2013.
In the show, two people who already know each other in some capacity, race around the world as they compete with other teams, and strive to arrive before each other at the end of various Pit Stops after various legs of the race.
Photo credit: CBS
Share
(0) Readers Comments