Home » News » Hell's Kitchen Update: Steve Rosenthal Injured Out, Frank Bilotti Eliminated
Hell's Kitchen Update: Steve Rosenthal Injured Out, Frank Bilotti Eliminated
Posted by Juliet on November 14, 2014 at 3:56 AM EST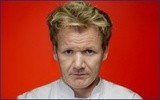 This week's ep of Hell's Kitchen, Fox's long-running reality cooking competition now in season 14, was certainly not without incident.
One contestant, Steve Rosenthal, had to leave due to a knee injury, while another, Frank Bilotti, was eliminated.
The 26-year-old exec chef from Staten Island, New York, was a key reason why the Red Team lost their 'Rock and Roll' dinner service. And notoriously acerbic Scottish chef Gordon Ramsay, who runs the show, was so clear that Frank needed to go he didn't even ask the Red Team to put forward to members for elimination.
Meanwhile, Steve, 34 and also an executive chef, from Detroit, had to leave the show also, because a serious knee injury was stopping him from standing and putting weight on his foot.
In an entertaining episode, the Blue Kitchen cooked for drummer of The Police, Stewart Copeland, the Red Team for Aerosmith frontman Steven Tyler.
Photo: Fox
Share
(0) Readers Comments