Home » News » Antonio Sabato Jr. On Dancing with the Stars Exit
Antonio Sabato Jr. On Dancing with the Stars Exit
Posted by Juliet on October 29, 2014 at 5:10 AM EST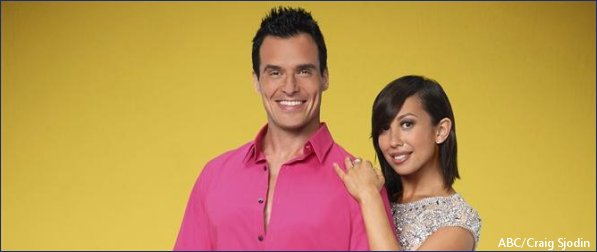 He's hot-footed his way out of top hoofing reality show Dancing with the Stars, and now Antonio Sabato Jr. has admitted that being eliminated wasn't easy.
He want on Good Morning America with professional partner Cheryl Burke and said: "It was a sad moment, but we're so blessed.
"While it's been kind of rough, it's great to have made it this far."
The 42-year-old came sixth, together with Burke, were the sixth dancing pair to be booted off the ABC show's Season 19, having competed Monday evening with a Viennese waltz that garnered just 27 of a possible 40 points, leaving the duo placed seventh on the leaderboard.
Describing the experience, the actor and General Hospital star said: "It was incredible, we had a great time."
Burke agreed that her partner had done very well, especially coming from zero past dance experience.
She said: "He did an amazing job, getting better every week."
Asked about who has the potential to win the series, she said:
"It could be anyone's game. It's up to the voters – so everyone has to vote."
Who's your favorite to win?
Photo: ABC/Craig Sjodin
Share
(0) Readers Comments