Home » News » Simon Cowell: "Bored" with his relationship with Lauren Silverman?
Simon Cowell: "Bored" with his relationship with Lauren Silverman?
Posted by Juliet on October 10, 2014 at 6:08 AM EST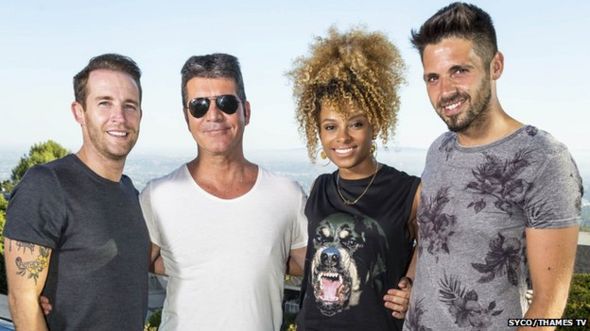 We've been getting reports that the British music and media mogul Simon Cowell, the creator of The X Factor, is feeling "bored" with girlfriend Lauren Silverman, 37, with whom the 54-year-old has one son, and is looking for a way out.
A source told one entertainment magazine: "All his time is taken up with his son and The X Factor. Simon doesn't have any time for Lauren."
There have even been rumors that Cowell is looking for a house to buy for her in the hope that the split could be amicable, and that he has been flirting with a member of production staff on The X Factor.
Simon Cowell's first child, Eric, was born on Valentine's Day this year.
And the former American Idol judge hinted just over a year ago that he may marry New York socialite Lauren. Their relationship ended her marriage to Andrew Silverman, and the pair who have an eight-year-old son together, divorced in December.
Cowell (pictured wth British contestants) is currently back on the UK version of hit reality singing show The X Factor for the first time in four years. In recent years, it has fallen behind in the ratings battle with its main rival, Strictly Come Dancing, the British Dancing with the Stars.
In the US, The X Factor was axed from Fox in February this year after just three seasons.
Photo: Syco/Thames TV
Share
(0) Readers Comments