Home » News » Sixteenth Season Big Brother Win for Derrick Levasseur
Sixteenth Season Big Brother Win for Derrick Levasseur
Posted by Juliet on September 26, 2014 at 4:47 AM EST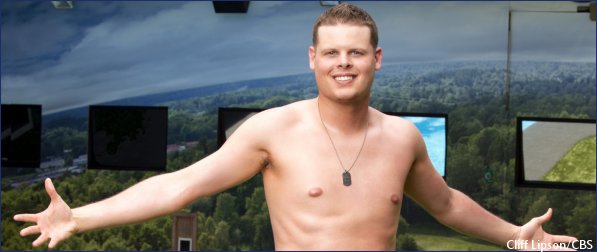 Derrick Levasseur was crowned champion of the sixteenth season winner of houseguest show Big Brother this week, seeing off competition from Cody Calafiore.
It's taken nearly 100 days, getting on for 50 contests and no fewer than 14 evictions, but it was the 30-year-old police officer from Providence, RI, who took home the half a million dollar prize after a landslide jury vote of 7-2 over Cody, 23, from New Jersey.
However, Cody won't go home empty-handed – he won $50,000.
Jury votes came from evicted housemates including Donny Thompson, who won the season's America's Favorite Houseguest title, voted for by viewers. More than 10 million votes were cast for this title, the most in the history of Big Brother.
A 22-year-old photographer from Brooklyn, Victoria Rafaeli, narrowly missed out on making it to the final two.
And,, while this season may be over, Big Brother isn't. CBS has renewed for two more seasons, with the seventeenth kicking off next summer and Season 18 to run in 2016. Julie Chen remains the host.
Photo: CBS
Other Articles You May Be Interested In:
Share
(0) Readers Comments