Home » News » Andi Dorfman Opens Her Heart on Nick Viall and Josh Murray
Andi Dorfman Opens Her Heart on Nick Viall and Josh Murray
Posted by Juliet on July 3, 2014 at 5:17 AM EST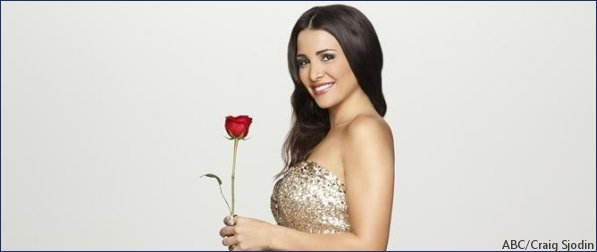 Star of The Bachelorette Andi Dorfman has expressed her surprise at hearing suitor Josh Murray say he took her completely by surprise when he revealed he was falling in love with her.
The declaration came as Andi and the former basketball pro from Georgia, Atlanta, enjoyed a romantic date in the Belgian city of Ghent during this week's ep of the popular ABC reality dating series.
Writing in a blog Andi said: "I was totally shocked! He is more reserved than the others, but it was a pleasant surprise – and the best part of the date!"
If anything, Josh's previous reserve only made the revelation more significant to her.
With that conversation, a beguiling performance by American Young and a kiss against a castle wall, no wonder Andi describes the whole thing as "fairy tale-esque!"
Andi has also explained why she gave the ep's group date rose to 33-year-old Chicago sales executive Nick Viall, who had snuck into her hotel room and gone on a private walk with her the previous evening.
"Nick had been so open with me and I felt so good about our relationship and wanted him to feel the same way. I was completely surprised when he came over to my room but I loved it. What I loved most of all was that he really only wanted to go for a walk."
Photo: ABC
Share
(0) Readers Comments