Home » News » Just Good Friends? Jennifer Lopez and Maksim Chmerkovskiy Enjoy "Flirty" Night Out
Just Good Friends? Jennifer Lopez and Maksim Chmerkovskiy Enjoy "Flirty" Night Out
Posted by Juliet on June 23, 2014 at 5:43 PM EST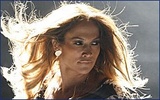 She's denied they're actually dating (well , with respect, she probably would, wouldn't she?) but that hasn't stopped the 44-year-old American Idol judge from enjoying a rather flirty night out with 34-year-old Dancing with the Stars pro Maksim Chmerkovskiyafter he rocked up to one of her concerts in Connecticut at the weekend.
Afterward, the pair, who were part of a bigger group, danced and talked the night away at Shrine nightclub and it was reported that she had a big grin on her face all the while and seemed to be having a great time.
But J-Lo and Maksim went their separate ways at the end of the night.
Lopez recently split with 27-year-old Casper Smart, a dancer-turned-choreographer in a process that's been described as "amicable". Meanwhile Maksim has reportedly been single since breaking up with supermodel Kate Upton in December. Another name he's been linked with since is that of Meryl Davis with whom he won Season 14 of Dancing with the Stars.
Rumours surrounding the singer and Maksim have been flying around since they performed at the American Music Awards last fall.
Lopez is expected to return to judge American Idol, while Chmerkovskiy has recently suggested he might like to be a judge on Dancing with the Stars in the future.
Photo: Fox
Share
(0) Readers Comments