Home » News » Surprise Wedding as Bachelorette's Emily Maynard Gets Her Happy Ending
Surprise Wedding as Bachelorette's Emily Maynard Gets Her Happy Ending
Posted by Juliet on June 10, 2014 at 11:08 AM EST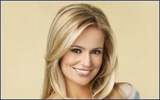 Eighth season Bachelorette star Emily Maynard became fiancé Tyler Johnson's wife at the weekend in a surprise ceremony at Sharon, South Carolina.
Emily described her relationship with the automotive management consultant to an interviewer: "God brought us together. I'm so grateful I met him and he's given me so much peace about everything."
Dozens of family members and friends were apparently there to see the couple exchange vows at the groom's family farm, after telling guests to rock up for an engagement party.
But it seems that, in reality, the pair, both 28, had been planning their surprise marriage for weeks if not months.
Reports suggest that the bride wore a light pink Modern Trousseau gown with cowboys as she walked down a path lit by lanterns for the sunset ceremony which took  place under a white oak tree.
Maid of honor was Emily's daughter Ricki, eight.
The engagement was announced at the start of the year. Maynard was formerly engaged to fifteenth season Bachelor star Brad Womack and then Jef Holm, who won the eighth season of The Bachelorette.
She was also previously due to marry Ricky Hendrick, who tragically died in a plane crash 10 years ago while Emily was expecting the couple's daughter.
So, after tragedy and a LOT of reality TV, we're thrilled Emily has finally gotten her happy ending, even if it isn't the one she was expecting.
Photo: ABC
Share
(0) Readers Comments