Home » News » Josh Kaufman Crowned King of The Voice, Season Six
Josh Kaufman Crowned King of The Voice, Season Six
Posted by Juliet on May 21, 2014 at 4:05 PM EST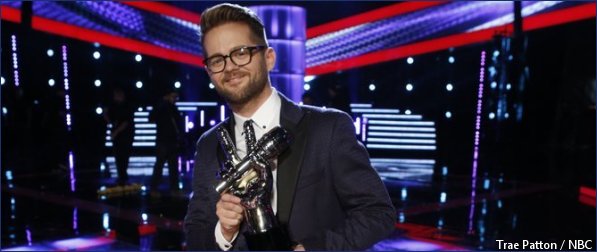 Singer Josh Kaufman was named winner of the sixth season of The Voice this week during a live broadcast of the finale of the hit NBC crooning reality show.
The 38-year-old from Sarasota, Florida, gushed afterward: "I can't even talk. I'm overwhelmed. I'm happy, I'm relieved. "This has been so much more of an experience than I ever imagined. I'm just so grateful."
Kaufman collected the highest number of home viewer votes and the prize of a recording contract after the Monday night show, during which fellow finalists Jake Worthington and Christina Grimmie also performed.
His success was the first victory for coach Usher, who "saved" him and moved him to his own team after Kaufman's first coach, Maroon 5 frontman Adam Levine, eliminated him in an earlier "battle" round.
The runner up was Worthington, 18, from La Porte, Texas, coached by Blake Shelton.
Meanwhile Levine's protégé Grimmie, who's 20 and from New Jersey, had to settle for third place.
It seems that she won't go away empty-handed, however – Levine offered her a recording deal at the start of the finale, saying it was hers whether she won on the night or not.
Pic: Trae Patton/NBC
Share
(0) Readers Comments