Home » News » America's Top Model: All the Latest!
America's Top Model: All the Latest!
Posted by Juliet on February 18, 2014 at 7:11 AM EST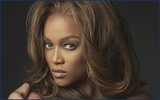 The Brits call turning 21 "coming of age" and America's Next Top Model is kind of doing that by having a 21st season, in which it is bringing back Miss J. Alexander, better known as just "Miss J", while losing judge Rob Evans.
Miss J. comes back to the judging panel for the show's second "Guys and Gals" edition, due to air in the summer. Seven guys and the same number of women are set to take part alongside famous photographer Yu Tsai, who is going to be on board as a creative consultant.
Wannabe models will be competing for an amazing price package including a fashion feature in NYLON magazine, a $100,000 national ad campaign with GUESS and an offer to sign a deal with Next Model Management.
Fans will be able to vote during the season both online and by phone as they select their top contestants based on photo shoots completed during production.
Voting begin February 20 and goes on until April 1 and will ultimately decide which favorite eliminated model gets the opportunity to re-enter the competition ahead of the summer airing.
Photo credit: The CW
Share
(0) Readers Comments