Home » News » Biggest Loser Winner Rachel Frederickson Ducks "Too Thin" Questions
Biggest Loser Winner Rachel Frederickson Ducks "Too Thin" Questions
Posted by Juliet on February 6, 2014 at 5:18 AM EST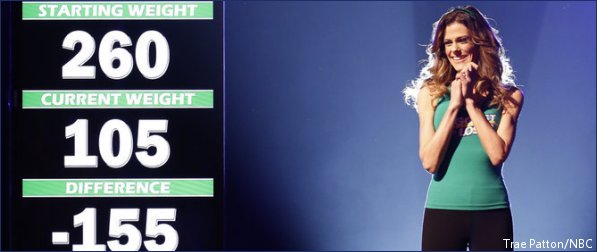 She was crowned winner of The Biggest Loser live on NBC this week – after dropping more than half of the body weight she started out with.
Rachel Frederickson, a 24-year-old LA-based voice-over artist, went from 260 pounds to 105 over the course of the seven and a half month season to take home the $250,000 prize.
The percentage of her bodyweight that vanished was the biggest achieved by anyone on the show, sparking fears that Rachel has just gotten too skinny, or may even be at risk of an eating disorder.
At a press conference this week, Rachel consistently evaded questions about these concerns over whether her weight is actually a healthy one.
She just kept saying things like: "I've never felt this great, and it's very exciting. Now I'm really in maintenance mode, and I'm going to embrace the new me and continue this journey. My body is going to find its way with the new maintenance and it will be perfect.
"It's just been natural and I've enjoyed every part. I had a lot of support in place – I stuck to my calorie  budget and did lots of working out."
Photo: NBC
Share
(0) Readers Comments