Home » News » Nine Bachelorettes Dispatched in The Bachelor Season Opener
Nine Bachelorettes Dispatched in The Bachelor Season Opener
Posted by Juliet on January 7, 2014 at 12:54 PM EST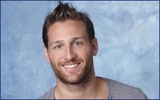 The first nine bachelorettes have been sent on their way by single guy Juan Pablo Galavis during last night's season opener for the 18th outing of the popular ABC reality dating show The Bachelor.
Among those denied the traditional roses were 23-year-old support police specialist from Miami Christine Llano, a designer of the same age called Kylie Lewis and Dallas grade school teacher Ashley Poe.
Another, Lauren Higginson, 25, of Oklahoma City, was in tears as she admitted: "I cannot believe I'm going home on the first night. It really sucks."
It was a chance for star Juan Pablo, a consultant in the sports and entertainment industry, to ponder on the weeks ahead.
He stressed the importance to his life of his daughter Camila, nearly five years old, but added that he would like a couple more kids.
It was also an opportunity for Juan Pablo to chat to last season's star Sean Lowe, who advised him to go with his gut but warned him of probable sleepless nights ahead, and that he would no doubt develop feelings for several of the women.
There was just one moment of embarrassment, when Kat was called out to be given a flower at the rose ceremony, and Kylie stepped forward! Oops …
We're loving this season already – bring on next week!
Pic: ABC
Share
(0) Readers Comments