Home » News » Next Batch of Bachelorettes Revealed for The Bachelor
Next Batch of Bachelorettes Revealed for The Bachelor
Posted by Juliet on December 5, 2013 at 8:11 AM EST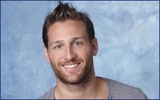 It's always good to have something to look forward to after the holidays, and now we do – the eighteenth season of The Bachelor, which kicks off on ABC on Monday January 6, at 8pm ET/EPT.
We're looking forward to it even more now that ABC has revealed the identities of the 27 young ladies who will be competing for the affections of the 32-year-old male star, Miami single Dad Pablo Galavis.
It looks as though there are some interesting bachelorettes among them – including a former NBA dancer who is actually a shy single mom, an opera singer, a lady who describes herself as a "flower child" (who shows up barefoot), and "Nurse Nikki" who gives Pablo a stethoscope "so he can listen to her heartbeat". Lauren pedals in on a "piano" bike while playing her own compositions, and Clare reportedly rocks up seven months pregnant.
During the first show's rose ceremony, the girls will be whittled down to 18.
We can't wait!
Photo: ABC
Share
(0) Readers Comments