Home » News » Wedding Bells for Christy Petersen and Aras Baskauskas!
Wedding Bells for Christy Petersen and Aras Baskauskas!
Posted by Juliet on November 11, 2013 at 4:18 PM EST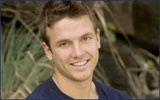 It seems that Survivor: Blood vs. Water castaway Aras Baskauskas has popped the question to Christy Petersen, his girlfriends of four years and a clothing designer and model.
What's more, it sounds like a relaxed and romantic proposal, reportedly taking place against the backdrop of the ocean at California's Big Sur on Saturday evening.
Aras, a 32-year-old musician from Santa Monica, has even admitted to one interviewer: "I didn't think I'd be nervous, but I was."
It appears that he even got down on one knee in front of the Pacific Ocean and gave Christy a handmade Jessica Seaton engagement ring after the couple had watched the sun go down – then, when the deal was sealed (presumably with a kiss!) celebrations with margaritas and Mexican food were in order.
The former Survivor: Panama – Exile Island winner even confessed to a magazine that he had been planning the proposal for weeks in advance.
Aras was kicked out of his "tribe" on the popular reality show and sent to Redemption Island in last week's show, while brother Vytas Baskauskas Is still in the game. But, while he may have lost the reality show, Aras is clearly a winner in love! Awww!
Photo CBS
Share
(0) Readers Comments