Home » News » Kanye West Allegedly "Not Interested" in Marrying Kim Kardashian
Kanye West Allegedly "Not Interested" in Marrying Kim Kardashian
Posted by Juliet on October 21, 2013 at 4:32 PM EST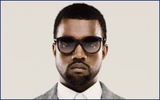 It's been reported that rapper Kanye West "has no interest" in marrying his girlfriend of some 18 months, the reality TV queen Kim Kardashian.
A source "close to West" told one showbiz website that he "had no need or desire to make the relationship official in the eyes of the law", and sees the concept of marriage as "outdated."
Of course, the couple have a four-month-old baby daughter, North or "Nori" West, and even this hasn't made Kanye want to rush to wed. And it seems that Kardashian, herself twice married and divorced, is equally happy to keep things just the way they are.
After all, when it comes to the big, splashy wedding, she's been there, seen it, done it – and got the proverbial t-shirt.
"She's becoming more adamant about doing things on her own terms and keeping it low key," the same source added.
Quite possibly the family would still like to see the rapper and the starlet tie the knot. But, equally, given the less than strong record of marriages in the clan, perhaps they're just as happy to let the couple be.
Photo: E!
Share
(0) Readers Comments