Home » News » Kris and Bruce Jenner Split: Joint TV Appearances to Continue
Kris and Bruce Jenner Split: Joint TV Appearances to Continue
Posted by Juliet on October 11, 2013 at 7:04 AM EST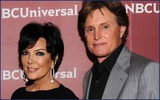 They may have gone their separate ways, but Kris and Bruce Jenner will still be starring in hit E! reality show Keeping up with the Kardashians, it has been revealed.
What's more, the former couple's much publicised split will reportedly become the focus of a big storyline for the show in its forthcoming ninth season.
Sources told a showbiz website this week that Bruce shot scenes for Keeping Up with daughters Kendall, 17, and 16-year-old Kylie following the formal confirmation of his separation from Kris.
The show is currently airing its eighth series, which began early in June. It seems that the next season will depict Kris and Bruce living separate lives but meeting up for family events. It seems that all involved parties know they are stronger – and can make more money – when they are together.
Rob Kardashian, to whom Bruce has been an active stepfather, said in an interview: "Bruce has been in my life since I was two. That won't change. Even between my mom and Bruce, there's no negativity or bad blood.  I don't think they could be in a happier place right now."
Photo: E!
Share
(0) Readers Comments