Home » News » Fifth Season Blind Auditions Continue on The Voice
Fifth Season Blind Auditions Continue on The Voice
Posted by Juliet on September 25, 2013 at 4:43 PM EST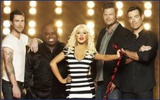 Two more potential stars-in-waiting have been discovered by coaches working on the fifth season of The Voice.
In all, nine artists were chosen for one of the four coaches' teams on Tuesday during the show's first blind auditions. But two really stood out. They were Minneapolis native Holly Henry, and Tessanne Chin, who's from Kingston, Jamaica.
Coaches Cee Lo Green, Blake Shelton, Christina Aguilera and Adam Levine all turned their chairs round when those two auditioned. Henry opted for Coldplay's The Scientist, and earned great praise from Shelton: "I recognise a star quality in your voice and nearly broke my hand hitting this button!"
Other judges were just as full of praise.
For her part, Chin performed Pink's "Try" – she chose Levine as her coach.
Aguilera said: "I think we're all desperate to have you on our teams," while Green told Chin: "You sang that like a grown woman", and Levine noted: "This is going to be a dirty fight."
The Voice continues on NBC.
Pic: NBC
Share
(0) Readers Comments