Home » News » America's Next Top Model Eliminates Alex Argo
America's Next Top Model Eliminates Alex Argo
Posted by Juliet on September 3, 2013 at 6:41 PM EST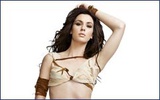 America's Next Top Model has spoken – and eliminated Alexandra "Alex" Argo during episode 6 of the CW's twentieth season.
The 21-year-old student from Palm Springs, Florida, said afterward: "I've wanted this my whole life and social media has loved me so far … I feel like if I'm meant to come back and do super well then I will.
"My goal now is to ensure I do my best in all the photo shoots."
Alex was one of two who ranked at the bottom – alongside bartender Jiana Davis, aged 20 and from Denver. The rankings were based on their challenge score and total combined scores from judges and viewers for a parodic, OTT ad in which the girls had to dress up as guys and vice versa.
Jeremy Rohmer, 19, from Mission Viejo, California, was the winner of the challenge. His prize? A romantic dinner with the model of his choice. His date was Jourdan  Miller, 19, from Bend, Oregon.
It's been a great season so far, so we'll be keeping our eyes on this one.
Photo: The CW.
Share
(0) Readers Comments