Home » News » America's Next Top Model: Chlea Ramirez Ousted
America's Next Top Model: Chlea Ramirez Ousted
Posted by Juliet on August 19, 2013 at 5:19 PM EST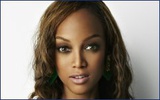 Chlea Ramirez was eliminated from the fourth episode of season 20 of the CW's America's Next Top Model right before the weekend.
Afterward, the 20-year-old credit analyst from Bear, DE, told lead judge and creator of the reality show Tyra Banks: "Thank you for this opportunity."
The model had found herself in the bottom two alongside Minneapolis rapper Don Walls, 25. The results were based on the combined scores from viewers and judges for a photo shoot requiring contestants to have a "fierce, sexy" photo taken.
But, as Tyra Banks made clear, Chlea has a chance to come back: "The highest social media score will come back."
Chlea, who's 5" 10", added: "I want to tell my fans to just give me a chance. Just give me a chance and you'll see."
Best photo of the week this week went to Mike, who also got the highest overall score of 34.5.
We'll be glued to the rest of the season!
Photo: The CW
Share
(0) Readers Comments